Maasina and Marx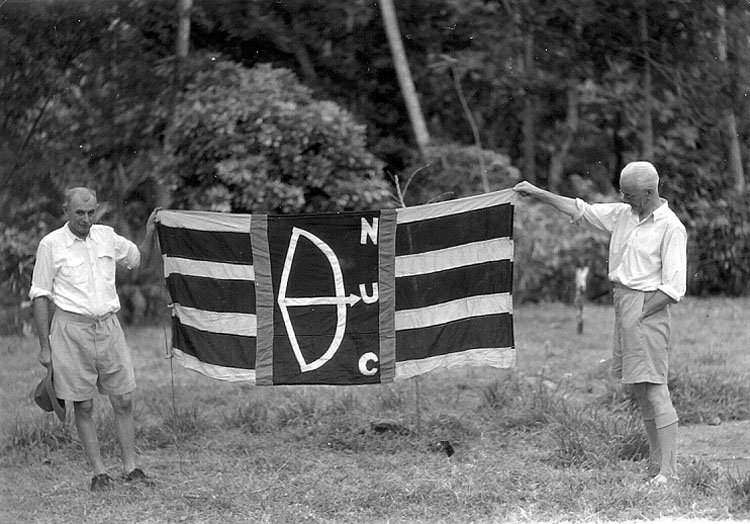 This photograph was apparently taken somewhere on Mailaita sometime in the 1950s. A couple of whitefellas - are they colonial administrators, or missionaries, or schoolteachers? - have snared a flag of the Maasina Ruru movement. They might be stretching an exotic bird's wings for the camera.
Maasina is the Pijin word for Marching, and the thousands of supporters of Maasina Ruru marched across Malaita in the decade after World War Two, preaching their message of political and economic independence in soltwata villages and in the hamlets of the island's forested interior. The British colonial administration in Honiara resorted to prison camps and deportation to extinguish the movement. The late Hugh Laracy collected some of Maasina Ruru's visionary polemics.
I've discussed Solomon Islanders' resistance to colonial rule in a couple of recent pieces for EyeContact, and last week the distinguished Kiwi historian Mark Derby sent me a fascinating e mail about the Maasina Rule movement and its enemies. Mark wrote that:
I noticed a little thing that you, as a connoisseur of South Pacific political burlesque, might enjoy, if you don't already know about it, which is more than likely.
In 1962 Leon Gotz, National's heroically obtuse Internal Affairs Minister, was evidently most concerned at growing dissatisfaction among peoples of the Pacific Islands towards their political overlords, and in the spirit of the times, he found signs of foreign subversion to account for it. Among the Solomon Islanders, "he had been faced with the the story of the 'marching rule', a corruption of the "Marxian rule'", although "they could not find the people who spread the word of Moscow."
(I'm sure you know about the 'Maasina Ruru' or 'marching rule' movement of the Solomons - if not, there's plenty of material readily available about it, and probably was even in Gotz's time.)
In fact, of course, the real motivation for the unrest Gotz detected in the formerly quiescent South Pacific was opposition to nuclear testing.
This inadvertently hilarious bit of regional red-scaring can be found in
NZ Herald
23 April 1962, p. 12
ie. after the cutoff point for
Papers Past
and therefore more remote and obscure in archival terms than the Solomons themselves.
Malaita may not have been a hotbed of Marxism in the 1960s, but in that decade a young anthropologist named Roger Keesing began to study the island's Kwaio people. Keesing's Marxist-influenced essays and books about the Kwaio defiance of colonial authority would get him banned from the Solomons, and make that people famous far from the Pacific. Perhaps, then, Leon Gotz had something to fear after all...