WMDs: sinful in Syria, but forgettable in the Pacific?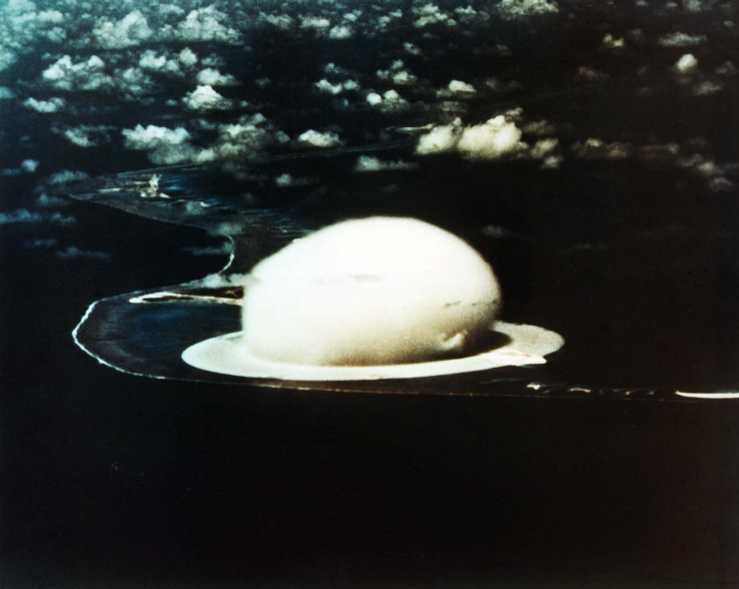 The central event of last week's Pacific Islands Forum meeting in the Marshall Islands was a speech by America's Secretary of State. But John Kerry didn't deign to visit Majuro, the Marshall Islands' little capital city, in person. Instead the leaders of almost a score of island nations gathered before a screen in a darkened room in Majuro's conference centre, like the adepts of some mystical religion waiting for their elusive God to manifest himself. Eventually Kerry flickered onto the screen, and offered up a series of patronising clichés about Pacific brotherhood and global warming.
Kerry was far too busy organising a military attack on Syria to visit the Pacific. For Kerry and his boss Barack Obama, Syrian dictator Bashir Assad's apparent use of chemical weapons against the residents of a rebellious suburb of Damascus demands a military response. Wherever 'weapons of mass destruction' like Assad's chemical weapons are used, Kerry and Obama insist, the world must 'intervene' quickly and decisively.
Shortly after John Kerry's virtual appearance at Majuro, the Pacific Islands Forum produced a statement condemning Assad's apparent use of weapons of mass destruction, and calling for urgent action. The statement would have pleased New Zealand Prime Minister John Key, who was, in the absence of the doomed Aussie leader Kevin Rudd, the chief agent of American interests at the Forum. Key had lobbied Pacific leaders to support America's line on Syria.
But the people of the Marshall Islands do not need John Kerry and John Key to teach them about weapons of mass destruction. Between 1946 and and 1958 the United States, which had been gifted the Marshalls by the United Nations after World War Two, dropped sixty-seven nuclear bombs on the islands of Bikini and Enewetak.
Cameras encased in concrete and mounted on nearby islands watched the blast waves from these bombs bend and break thousands of coconut trees, suck the water off reefs, and turn the sky the colour of blood.
Soon fascinated American scientists were doing field work amongst the residents of atolls situated close to the nuclear test sites. As babies were born with missing limbs and healthy young men and women developed exotic cancers, confidential reports on the effects of radiation on human physiology wound their way back to the Pentagon.
Today the Marshall Islands still struggles with the medical and environmental consequences of America's nuclear campaign. The Marshalls won partial independence in 1986, and its current government has been demanding American cash to help deal with the legacy of the nuclear era. The Marshallese were able to convince leaders at last year's Pacific Islands Forum to support their campaign for compensation. Despite aggressive long-distance lobbying by political and military heavyweights in Washington, this year's summit reaffirmed that support.
Barack Obama and John Kerry are uninterested in acknowledging, let alone ameliorating, America's nuclear history in the Pacific because their concern about 'weapons of mass destruction' is selective. Like George W Bush before him, Obama likes to appeal to 'weapons of mass destruction' to justify diplomatic and military action designed to reinforce and extend America's imperial power. In 2003 Bush justified the invasion of Iraq by claiming that Saddam Hussein had a vast arsenal of 'weapons of mass destruction' that needed to be captured and destroyed. No such weapons existed, but the real aim of Bush's war was the construction of a new, pro-American state in the heart of the oil-rich Middle East.
Obama's coming war on Syria has as little to do with concern about weapons of mass destruction as Bush's assault on Iraq. The failure of Bush's attempt to control Iraq and the toppling of Egypt's dictator Hosni Mubarak by the protesters of the 'Arab Spring' have been huge blows to American power and prestige in the Middle East. As it fights against a brave but disorganised army of rebels, the Assad regime is being supplied with weapons and money by Russia and China, America's superpower rivals, and is getting troops from Iran, the country which has taken effective control of large parts of Iraq in recent years.
A number of senior American politicians have in recent weeks decried their country's lack of influence over events in Syria, demanding that Obama and Kerry 'do something' to restore America's 'standing' in the Middle East. The coming attack on Syria is intended to restore America's reputation as a powerbroker and an enforcer in a region that seems increasingly out of control. Rhetoric about 'weapons of mass destruction' is meant to help Obama and Kerry, like Bush before them, sell war to the American public.
In the Pacific, as well as the Middle East, America is struggling to hold onto its old influence. Long accustomed to dominating the small island states of the Pacific in concert with its allies Australia and New Zealand, Washington has been challenged in recent years by a resurgent China, which has offered loans, aid, and advice to countries like Fiji, Kiribati, and Tonga. Chinese naval vessels and fishing fleets have become familiar sights in the Pacific. Island leaders who have fallen out with America and Australasia, like Fiji's Commodore Bainimarama, have turned gratefully to China. In the Pacific as well as the Middle East, a new Cold War is beginning, as China takes over the Soviet Union's old role as America's superpower rival.
China's new interest in the Pacific has prompted the Obama administration to announce a major shift in its military strategy, which will see the gradual deployment of troops, planes, and vessels from Europe to East Asia and the Pacific, where they can confront China. As part of this new strategy, Obama and Kerry are seeking to reopen many military bases and air bases that have been closed since the days of the old struggle with the Soviet Union. As they try to sell their new Pacific deployment to the world, Obama and Kerry have no interest in acknowledging the weapons of mass destruction their country brought to the Pacific in the decades after World War Two.
[Posted by Scott Hamilton]