Not just a pretty map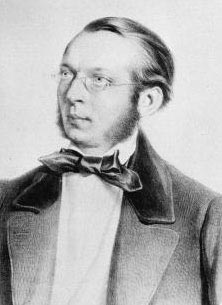 Ferdinand von Hochstetter is best-known to Kiwis as the creator of a series of exquisite geological maps of various regions of their country. Back in June, I used a detail of Hochstetter's most famous creation, his geological map of the Auckland isthmus, to illustrate
a post
to this blog; an enlarged version of the whole map adorns a wall in the Auckland War Memorial Museum's popular permanent exhibition on volcanoes.
2008 marks the one hundredth and fiftieth anniversary of Hochstetter's arrival in Auckland, and the Auckland Central Public Library is celebrating the 'father of New Zealand geology' with an exhibition which is long on pretty maps and rather short on historical context.
Over at the
Scoop Review of Books
, I've questioned whether Hochstetter deserves to be celebrated, given his hostile attitude towards the tangata whenua of this country and the role that his work played in the Waikato war of 1863-64 and the subsequent confiscation of the much of the land of the Tainui peoples. I argue that Hochstetter and some of the other Austrian scientists who visited these shores in the late 1850s were not pious scholars, interested only in adding to the sum of human knowledge, but rather captives of a racist, pseudo-Darwinian ideology which foreshadows the creed of Nazism. Read the full argument
here
.