Road links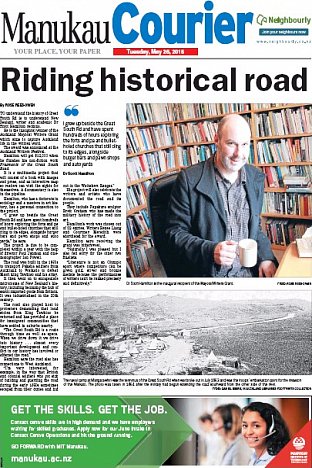 My mug has been all over the papers. In
Manukau
and on the North Shore, couriers have reproduced
Rose Rees-Owen's article
about the study of the Great South Road I've been conducting with Paul Janman and Ian Powell.
I'm grateful to the folks who have seen me in their local paper, gotten in touch, and shown me old photographs and maps and fortifications. Last weekend I visited Pokeno with Ian Barton, whose
Queen's Redoubt Trust
has recreated the largest fort of the Waikato War, and is now raising a Visitors Centre.
A couple of people have asked me to help them find them some of the images and descriptions of the Great South Road stored on this blog. Here are a few links.
Paul Janman called me and suggested making a sort of movie about the Great South Road after reading the
manifesto of the Committee for the Reconstruction of Space and Time
(or Crostopi, for short). The manifesto called for the fearless exploration of some of the less glamorous corners of New Zealand and, in an essay that also turned up in
brief
, I took a
look at Mutukaroa
, Auckland's largest traffic island.
Towards the end of 2011 Paul and I produced
a short clip and a written plan
for the film we wanted to make. We promised to document the Great South Road's history as a route for a British army going to war against Waikato Maori as well as its present as the main path through the southern half of one of the world's most ethnically and linguistically diverse cities. In an account of one of
his own walks
down the Great South Road, Steve Braunias called our proposed twenty-part movie 'audacious'. It was probably far too audacious.
Our promo clip was full of shots taken from a moving car; Bill Direen was unimpressed, and complained that we had made a drive down the Great South Road seem like a 'human safari'. Paul
wrote a careful reply
that discussed his experiences making a movie in the Kingdom of Tonga.
The
Crostopi Manifesto
claims that Auckland's famous Domain was a sort of fragrant barracks in the early 1860s, because it was used to acclimatise some of the species that would soon invade the Waikato Kingdom alongside the British army. In 2012 Paul and
his fellow camera geek
Ian Powell began exploring the Domain's crevices and grottoes. They were able to shoot not only
quaint imperial gardens
but the
ruined Parnell railway workshops
, which have since been extirpated by local politicians preoccupied with beautification. In 2014 Paul and Ian returned to the Domain with a sinister and short-lived character
named Felice Quail
, whose
father Felix
had earlier given us trouble.
As we researched the history of the Great South Road, and the writers and image makers who had wandered and described the route, I became preoccupied with,
and began to write about
, William Temple, the military doctor and amateur photographer who made a series of sinister blurred images as he advanced south into the Waikato with the British army.
I grew up alongside the Great South Road, and began to lean on family members and old friends for help with research. I started collecting stories about the
old folks home in Papakura
, and visiting the little graveyard in Drury where the first Anzacs to die in battle
lie in something like secrecy
. Ian set up his tripod
on Te Maketu, the ancient pa
where I played as a kid, and where Kingite guerrillas went to observe traffic down the Great South Road during the first months of the Waikato War.
I lived overseas in 2013, and Paul spent much of that year promoting his film
Tongan Ark
. At the beginning of 2014, though,
an old photograph of a field of maize
made me want to restart our Great South Road adventure.
In 2013
an interactive map
that Paul had made of the Great South Road was part of an exhibition at Artspace; early in 2014 we were asked to
contribute to a show at Papakura Art Gallery
called
A Sense of Place
. We unfolded a table in the gallery and filled it with old maps,
letters from the future
,
counterfeit
money,
an account of the trial of Roger Douglas
and toys, and then stowed similar items in a series of
geocaches
- or
conceptual bombs
, as I rather extravagantly called them - that we hid in trees and under bridges up and down the Great South Road. During a break in our journey I watered
one of the sacred shrines
of New Zealand's white supremacist movement, and by doing so
upset one of this country's
most venerable right-wing windbags. The geocaches were very popular, and Paul has periodically
replenished them
.
Last year Paul and I ventured under the Great South Road,
visiting a cave
where left-wing dissidents had published an illegal newspaper during the early stages of World War Two. Paul strapped a light to his camera and
shot what sometimes looks like a safety awareness advertisement
.
While we were struggling through dank places, the Ngati Koroki sculptor Brett Graham was taking an aerial route south.
In the series of sculptures he exhibited
in Papakura, Graham looked down on the redoubts Pakeha had raised along the Great South Road in the 1860s like a vengeful God or a drone pilot. Like William Temple, Graham has turned the Great South Road into great art.
There have been more art shows. Last November we contributed
a geocache and a set of 'peeroscopes' to Mangere's Bridge
, as part of the
Other Waters
festival, and recently Paul and Ian
contributed images shot
near the Great South Road to another exhibition at the Papakura Art Gallery.
All of this material will be going into the film Paul is committed to finishing for next year's festival season, and into the book that I'm delivering in return for the Auckland Mayoral Literary Award. Thanks to people like Ian Barton, and the material they've recently been retrieving from attics and archives to show me, I'll be able to add a few new chapters to the book.
[Posted by Scott Hamilton]